Ship Golf Clubs
Relax and Swing! Your golf clubs are waiting for you at destination.
Why Ship Your Golf Clubs
Save time
Skip check-in line
Skip baggage claim line
Avoid the hassles of carrying big golf clubs everywhere
Save money
Avoid excess baggage fees
No additional costs on moving heavy golf clubs between airport, hotel, resort, hotel and home.
Bask in the joys of a relaxing trip
Enjoy a lighter trip without heavy golf clubs.
Golf clubs and luggage are waiting for you at golf course or your home.
Our Golf Clubs Shipping Services
We ship to every US address, and over 220 countries and territories worldwide
We offer various shipping services at competitive rates.
We arrange pick-ups at scheduled time frames from your door, and deliver golf clubs to your home, resort and hotel at destination.
You may drop off your golf clubs at over 250,000 locations worldwide.
We assist you in preparing the customs documentation for international shipment.
We monitor every shipment and work with both you and the carrier for any assistance that is needed.
We provide up-to 6 months of free storage services for your golf clubs.
Learn more about our Domestic Shipping Services, International shipping services
How to Pack and Label Your Golf Clubs
Securely wrap all fragile parts of golf sticks
Use a golf travel bag, hard case or golf box
Fill the empty space of golf box with packing bubble fillings or peanuts fillings
Close or zip up all pockets
US Domestic shipment: please lock your bag by TSA approved locks or cable ties.
International shipment: please

ONLY

use

Cable Ties

to lock your Luggage.
Put shipping labels and document inside the label pouch, tracking barcode facing outside.
Stick the pouch tightly to a luggage tag, and secure the tag to the top handle of your golf bag or case. Or stick the pouch tightly to the golf box.
Put an additional copy of label and document inside golf case. Or tape an additional label on the golf box with clear tape.
Take a full picture of the labeled golf clubs, with the tracking barcode.

Small Travel Bag
Max Weight: 35lbs / 16kg
Max Length: 50inch / 127cm
Max Girth: 44inch / 122cm

Standard Travel Bag
Max Weight: 40lbs / 18kg
Max Length: 52inch / 132cm
Max Girth: 46inch / 117cm

Large Travel Bag
Max Weight: 50lbs / 22kg
Max Length: 52inch / 132cm
Max Girth: 50inch / 127cm
Deluxe Travel Bag
Max Weight: 55lbs / 25kg
Max Length: 53inch / 135cm
Max Girth: 54inch / 138cm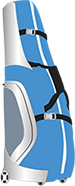 Large Pro Travel Bag
Max Weight: 60lbs / 28kg
Max Length: 54inch / 138cm
Max Girth: 60inch / 153cm