Ship for Storage
Luggage To Ship also provides free, safe and convenient storage services for up to 6 months if you use our shipping services from your location to our warehouse and from our warehouse back to you. We understand you may not be able to move all items one-time, or you may not have enough space to keep them. We can securely store your belongings and ship to you later. You just enjoy a lighter movement or an amplified living space.
Book Online
Sign up and place an order to
our Delaware (19720) or
New York (10017) warehouse

Ship
We attach new labels, ship out, and deliver your belongings to destination ontime.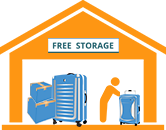 Arrival
Your items arrive at our warehouse. We notify the acceptance by email
Store

We securely keep your items in
our warehouse, and wait for
your new shipping order

24/7 security system
24/7 supporting
Flexible shipping options
Up to 6 months free storage
Save time and money
Warehouse pick up available